Yeah, it's been a busy week. It's always amazing how time consuming it is to run a group buy…and then do two simultaneously! On top of a fistful of little FZ development products (hush hush) and regular/recurring business activities. My head is spinning.
That said, the forks are back together at the moment with a set of 0.90 kg/mm springs and 10 wt oil. It's going to be a few days before they'll be road testing (still waiting for ECU), so I regretfully need to continue the tagline "stay tuned". But, once we can identify a good initial preload setting, we can take the new length and get some custom springs wound (2-3 week lead time for the first article pieces). The 10 wt oil is a shot to get more damping out of the stock internals, but that's just that – a starting point. Once we get the oil weight, oil height, and spring rates figured out, we'll have them available for sale. Then on to revalving the stock cartridge…and then, a fully adjustable fork.
On the shock side of things, there is some progress to report. For those who haven't seen it, see here: http://www.yamahafz09.com/forum/31-stoltec-moto/569-first-aftermarket-fz-09-shock-penske-spy-shots.html#post9191. Headed to Penske tomorrow to work out some of the kinks and move toward finalizing the design. To say the packaging is tricky on this bike is an understatement! But have faith…it will get worked out.
On another front (pun intended, again…don't forget to tip your waitress on the way out!), here is a glimpse into something we'll look at a little later on (after the suspension is baselined):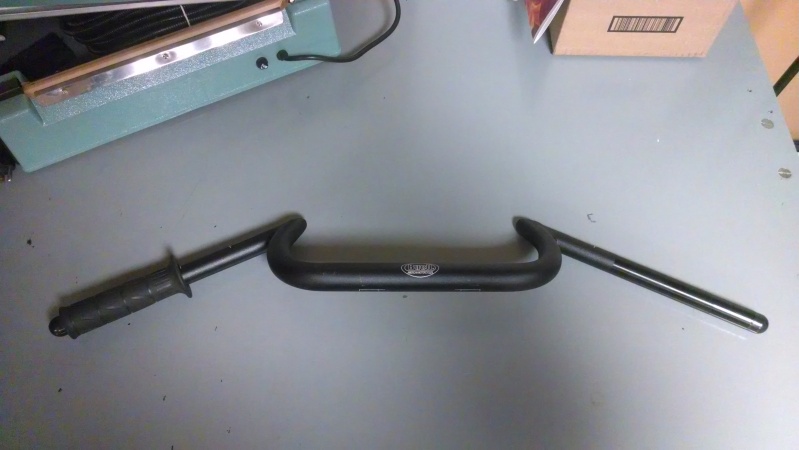 The stock tank, triples, and headlight assembly are going to make clip-on use challenging, so I believe these will be a decent solution at putting more weight over the front end. Unfortunately, I don't have a good source of supply for these. 1-1/8″ clubman bars are like unicorns; this particular bar was OE on the Buell 1125CR. More details to follow on this.