Description
Amazingly, Yamaha saw fit to restrict the US-spec FZ-10 by limiting throttle opening.  In stock form, twisting the throttle to the stop doesn't actually net you WOT.  Rather, the throttle plates are limited both below 8,000 RPM and over 10,000 RPM.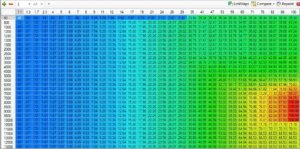 Eliminating these restrictions accesses full power than our MT-10 brethren have always had (about 12-16 hp depending on modifications).  This kit allows you to remove these restrictions.
Beyond the factory restrictions, this kit gives the end-user full access to the ECU.  You'll gain access to the following parameters:
Engine Braking adjustments
Throttle table adjustments
High Load Fuel Maps (with PC3 and PC5 map importing)
Low Load (cruising) Fuel Maps
Fuel Injector Proportioning
Ignition Timing
Immobilizer Function
Cooling Fan Temps
Rev-Limiter Control
Top Speed Limiter
Diagnostic Code Reading
Diagnostic Code Clearing
ECU-based quick-shifting (and Auto-Blipper)
ECU-based Active Tuning
If all that sounds like it's too much for you to handle, you can rest easy!  We'll provide our base throttle maps for your use.  These throttle maps have been optimized over several months and many iterations to provide the absolute smoothest on/off/on throttle transitions possible.  Engine braking is has been honed in to a reduced level.
Fueling/timing will be on you (or your tuner).  Alternatively, you can utilize FT-ECU's Active Tuning Kit which puts the power to create seamless fuel maps into the average customer's hands.  If you're looking to tinker and save on downtime, this is the solution for you.
Note:  International orders may take up to 5 business days to process.