Prior to our last track outing in May, I swapped out the stock GG front pads for the EBC HH. Bedded them in on the track and was quite pleased once they were broken in. Definitely more aggressive initial bite, but stopping power is nicely progressive. Braking deeper into corners was much easier and trail braking was more controllable. But, as good as the brakes were, there was still a bit of 'faith' left in the sequence of events. I don't want to misrepresent this as poor performance; it was quite good, actually. Rather, there just wasn't enough feel in the lever to really know what was going on at the contact patch. Having done a good day on the new pads, it was time to upgrade the master cylinder.
There are a lot of options out there to choose from. Retrofitting a stock radial master cylinder from an existing bike, or full-on aftermarket. While I would have loved to use a top of the line Magura or Brembo with additional adjustment, I decided to do the retrofit route for a few reasons: a cost-conscious upgrade that customers might benefit from, availability of aftermarket levers, and general parts supply. The R1/R6 master cylinder won out, primarily due to the bore size. The 16 mm R6 piston is 1 mm larger than the stock FZ-09 master cylinder. This jump alone yields 6-7% less hydraulic leverage (with a corresponding 6-7% less travel). Mechanical leverage (distance between pivot and plunger) is equal. Jumping to something like a GSXR Nissin (19 mm piston) would provide an astounding 27% hydraulic leverage decrease. That's a pretty big jump!
R6 master cylinders fetch top dollar on eBay. You might get lucky and find a deal, but most are priced more than what you can buy new from one of the online parts resellers…and you're stuck with the possibility of crash damage or unknown seal condition. Adding it all up, and buying new makes the most sense.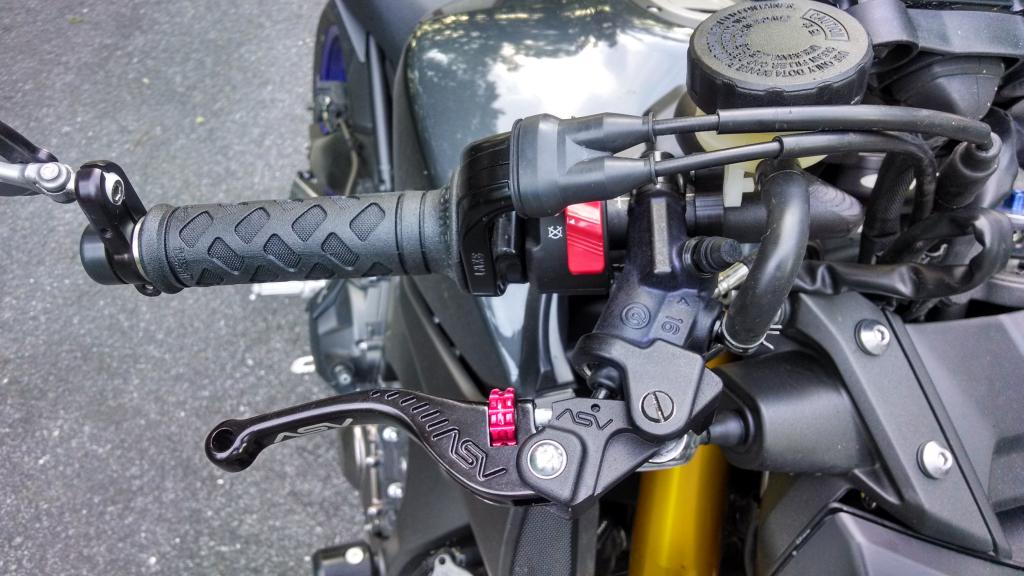 The new master cylinder was matched up with some new ASV 'unbreakable' levers: shorty on the brake, long on the clutch. Made in USA and the levers pivot away from the bar an amazing amount to minimize the risk of damage during a drop or crash.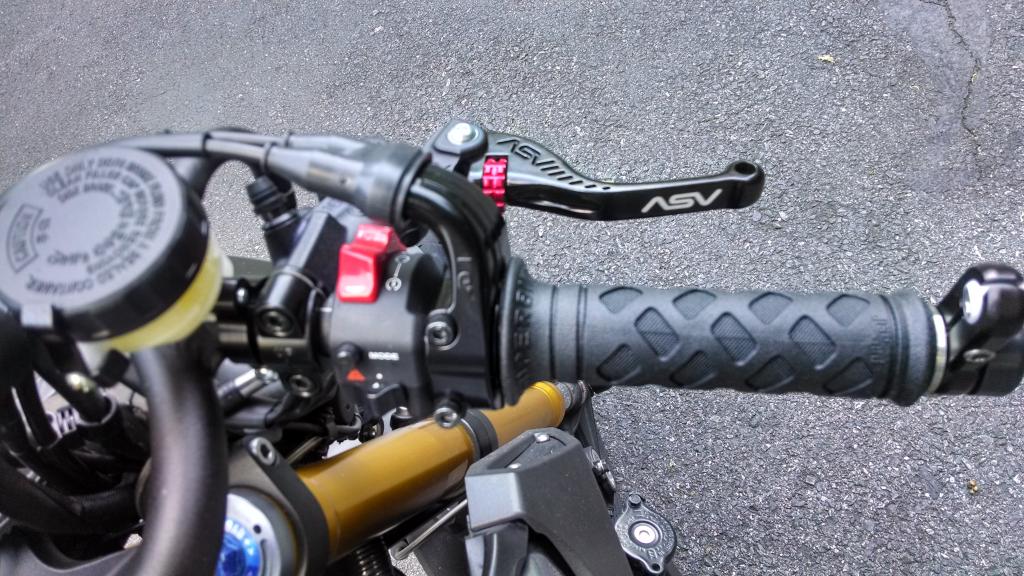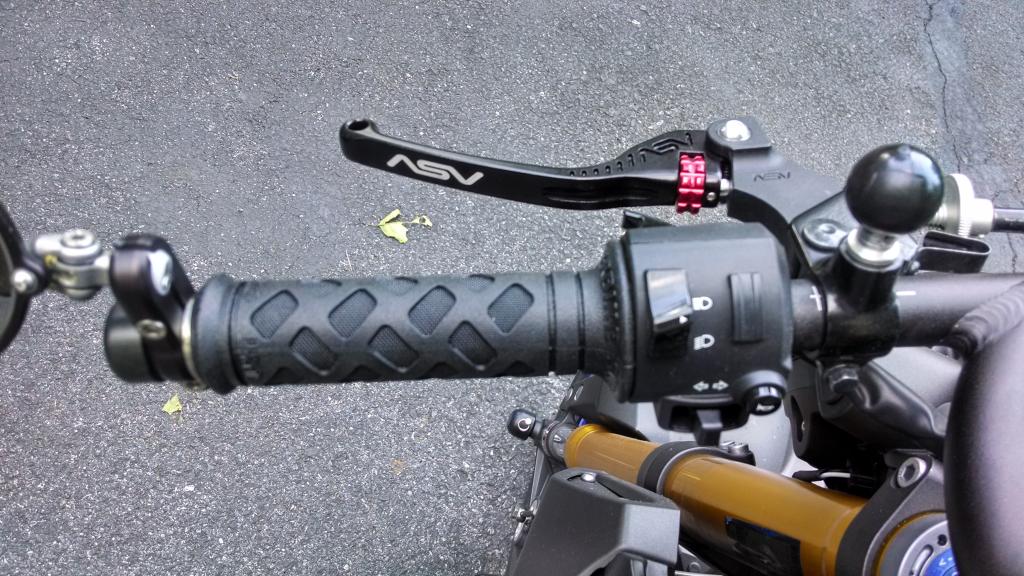 You're going to need a new brake line for the radial master cylinder, regardless of which handlebars you're using. Radial master cylinders discharge from the bottom whereas cross pumps discharge from the front. The line that arrived yesterday from Spiegler fit perfectly (first attempt!), so we'll have a kit offering for the clubmans w/ radial by next week. You'll also have to figure out the mount for the reservoir. I've made plenty of brackets for these swaps in the past, but stumbled upon a better solution. Woodcraft makes an economically priced clamp that slides over the handlebar. All you need to do is slide it on and cut your hose.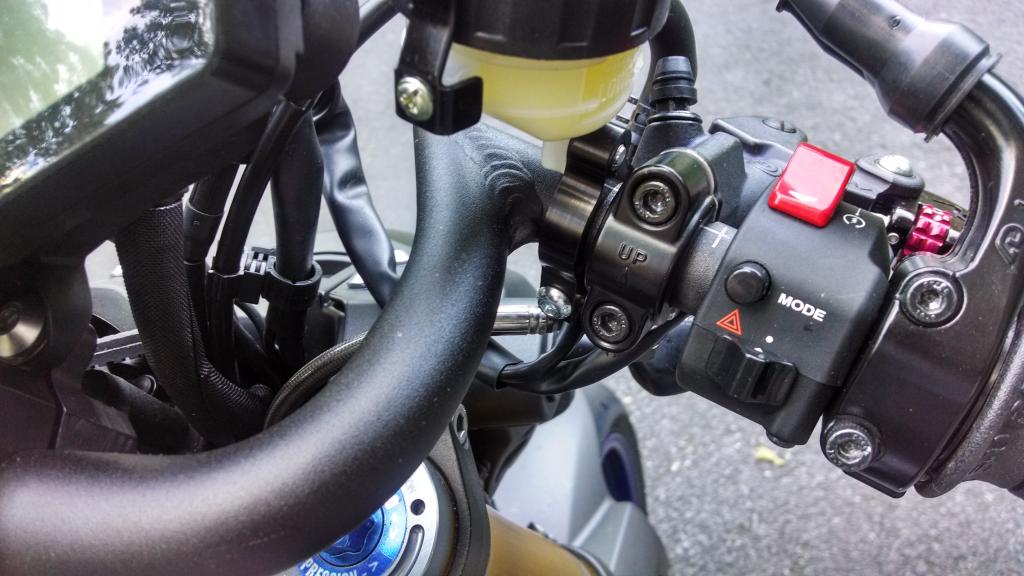 These will be added to site, as well. Wish I found this years ago!
Aesthetically speaking, the slim reservoir, master cylinder, and levers really clean up the look: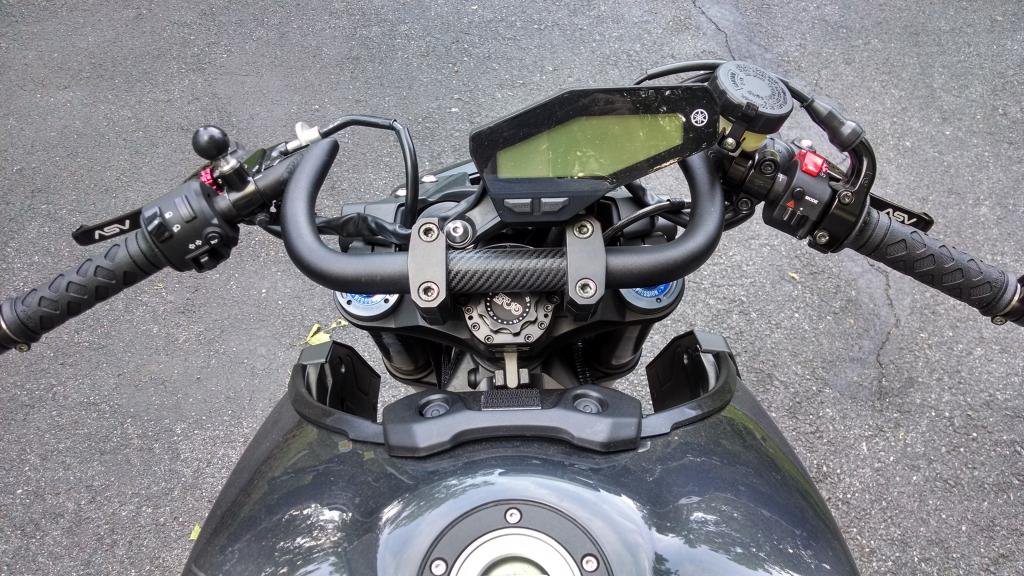 But most importantly, the increased stopping power and feel is just what the doctor ordered! Confident single finger braking, with enough feel to understand what's really going on under that tire. The FZ-09 now stops like a proper sportbike. I'll be at Pocono next weekend for a couple days, so more feedback will be coming soon. I still have a set of CL pads I'd like to test out, so I'll likely get those bedded in this week before heading to the track. Very pleased with this brake setup.
Some of the more observant readers might notice the new grips. Put a set of Progrip 699BK on in an attempt to kill some vibes. Despite the bar end mirrors and weights, I get a really nasty buzz in the bar during sustained cruising in the ~5k RPM region. So many things have changed on this bike that I honestly can't pinpoint what did it (or how much each of the changes contributed to the net effect). But, it is bad enough that my right hand goes numb after about an hour, especially in cooler temps. The left hand gets a good buzz, but it doesn't have the amplitude of the right to numb the hand. Shifting gears relocates the resonance from one point to another; on the track, I've finished every session with numb toes. Today's ride was short, so it's too soon to say if the grips worked. But, about 30 minutes of flogging ended with no numbness. Fingers crossed (I think…).