Spent a bit more time on the bike today testing out the forks springs and heavier oil. The roads were wet, so I really wasn't able to wring it out. Despite the wet roads, I pointed the bike to some very bumpy, twisty roads to see how she handled.
Surprisingly, the forks handle little bumps decently. They don't disappear like a well-revalved fork, but it's manageable. It's now squarely in how the bike should have come from the factory. Rebound is now working pretty well with the heavier oil. Low speed compression is a little soft, but it's workable at a reduced pace. High speed compression, though, is a little on the 'firm' side. It feels more like a track bike than a road bike, but as mentioned, it's manageable. For those who live outside of PA and have smoother roads, 10 wt oil should be a great starting point. I will likely give 7.5 wt oil a shot before jumping into the shim stacks.
That said, the rate feels wonderful. Diminished brake dive, more feel, much more composed. This is the result from a few hard 'panic' stops (60-70 mph with the rear wheel grazing the ground):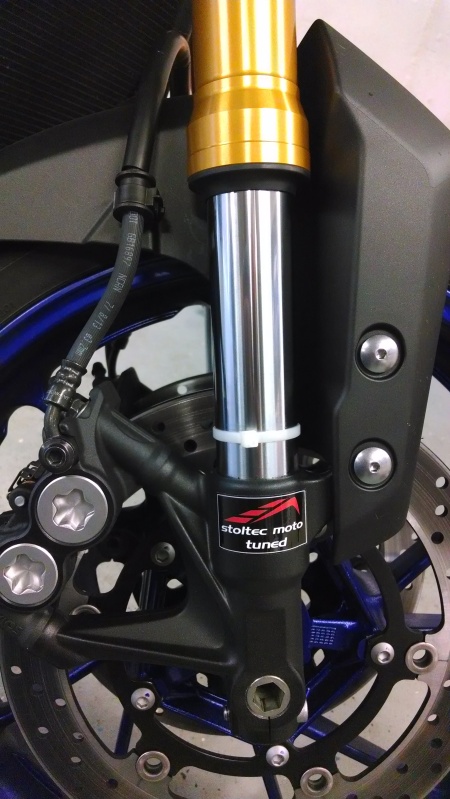 Have about 22 mm remaining. Since I'm running 2-3 mm too much oil (thanks Doug!), correcting will add a bit more travel. All told, the 0.90 kg/mm springs will be great for riders in the 195-210 fully geared range (maybe a bit more/less depending on riding style). At this point, I plan to stick with this rate and leave them in – even for the track.