Site has been quiet, but there has been plenty of action to report out on. Took some time off with the family to hang out at the Jersey shore for a week (no, Snookie wasn't there), so that delayed this progress report. But without further ado:
Stainless Steel Brake Lines
No pictures to show and tell quite yet – still tweaking a couple fittings and hose lengths/routes. What we hope to be the final prototype should be here by Friday. But, what I'll say:
Stock lines are a mix of hard steel lines and soft rubber lines. We're going to replace the hard lines throughout. A bit of work up front, but a cleaner install in the end. Plus, it'll save the customer money.
Stock lines have 6 flare fittings due to the hard lines. We were able to cut the final count in half down to 3. Fewer potential leak points are a good thing – and these are readily accessible instead of buried under the tank!
Net weight savings are in the 1.2-1.3 lb range. Not bad for just a line swap!
Pictures to follow during the next progress report – but we're getting very close to being done. Oh, and a friendly public service announcement – if/when you do this swap, do yourself a favor and just remove the radiator. It isn't that much work, and you'll thank me later. Those radiator fins are the most delicate I've laid my hands on. Good Lord…
Suspension
Version 2 of the rear shock should be back by the end of the week. We may need to make another final tweak to the layout because the R1 has more tool access around the shock (the FZ-10's passenger pegs are closer to the shock than on the R1). The bike has been down in pieces for the better part of 3 weeks while we sort some things out, so regrettably, no ride reports – yet. Stay tuned.
Stator Cover
As you may recall from an earlier post in this thread, the FZ-10 has a larger flywheel and a different stator than the R1. As such, the FZ-10 requires a taller stator cover. So unfortunately, this necessitates a new design. Unless of course you're man enough to retrofit the R1's stator and flywheel – I'm quietly trying to talk myself out of ruining the FZ by trying this…
Turns out that adding a perimeter spacer to raise the cover or adding more material to cover will price this thing WAY out of the market. Therefore, Eric @ Woodcraft and I have been going back and forth on the right path forward. Right now, we're looking at this: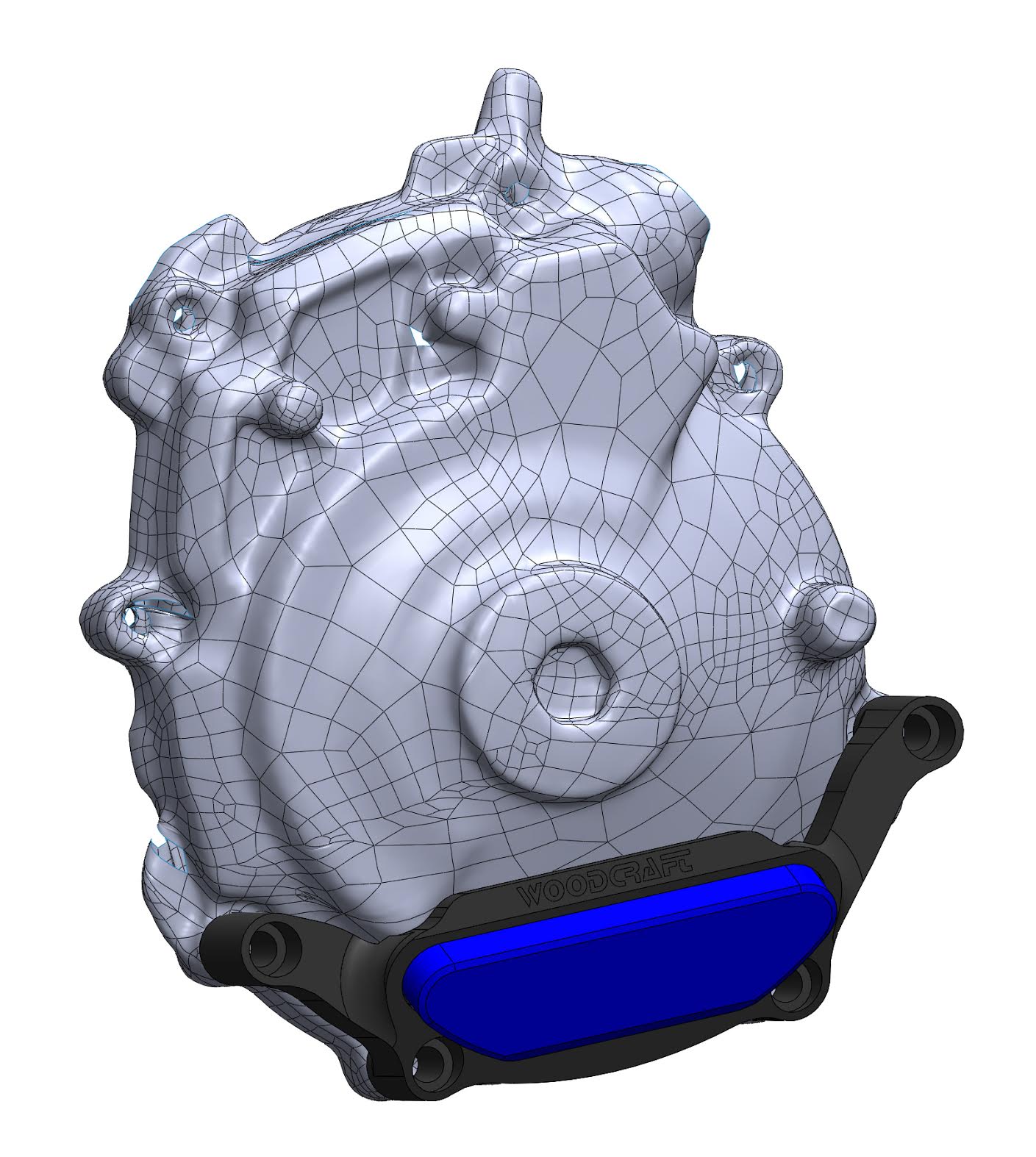 Although it's not as bullet proof as the R1's billet aluminum cover, there are some positives to this. First, it's going to cost much less money. Like, a lot less. Second, installation won't require removing the stator cover. Third, repairing crash damage won't require removing the stator cover. Not that removing the cover is a particularly difficult task, but why sign up for more work that is necessary.
We utilized a similar design on the FZ-09 – and yes, we've crash tested it. It worked flawlessly.
Rearsets
Here is an overlay of Woodcraft's current R1 rearset on the FZ-10: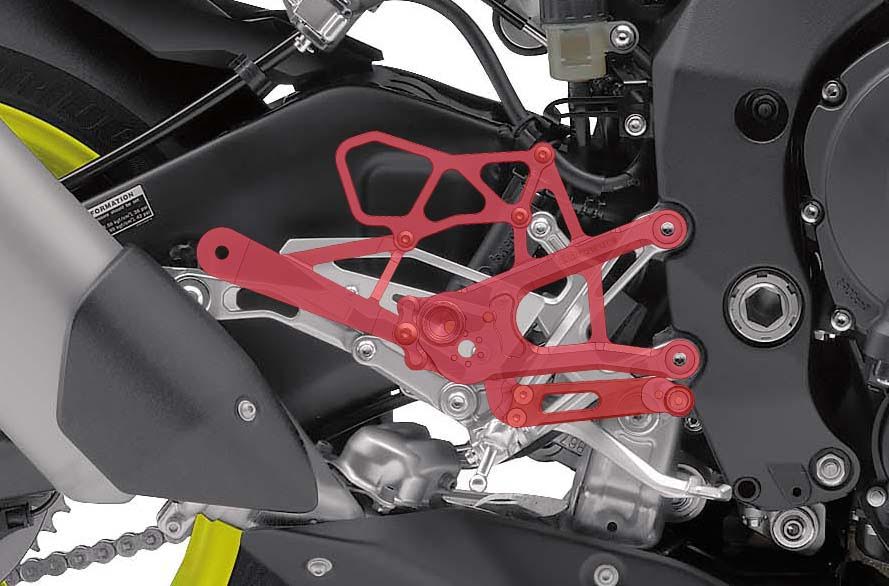 As you can see, the FZ's foot pegs are lower – much lower than the R1's aftermarket kit. About 2″ lower and 5/8″ back in the [U]lowest position[/U]. In my opinion, this is going to be too aggressive the typical FZ-10 owner. The comfort of the bike is a major appeal, so detracting from that would seem to be a major misstep. Correct me if you disagree.
That said, this is the current design: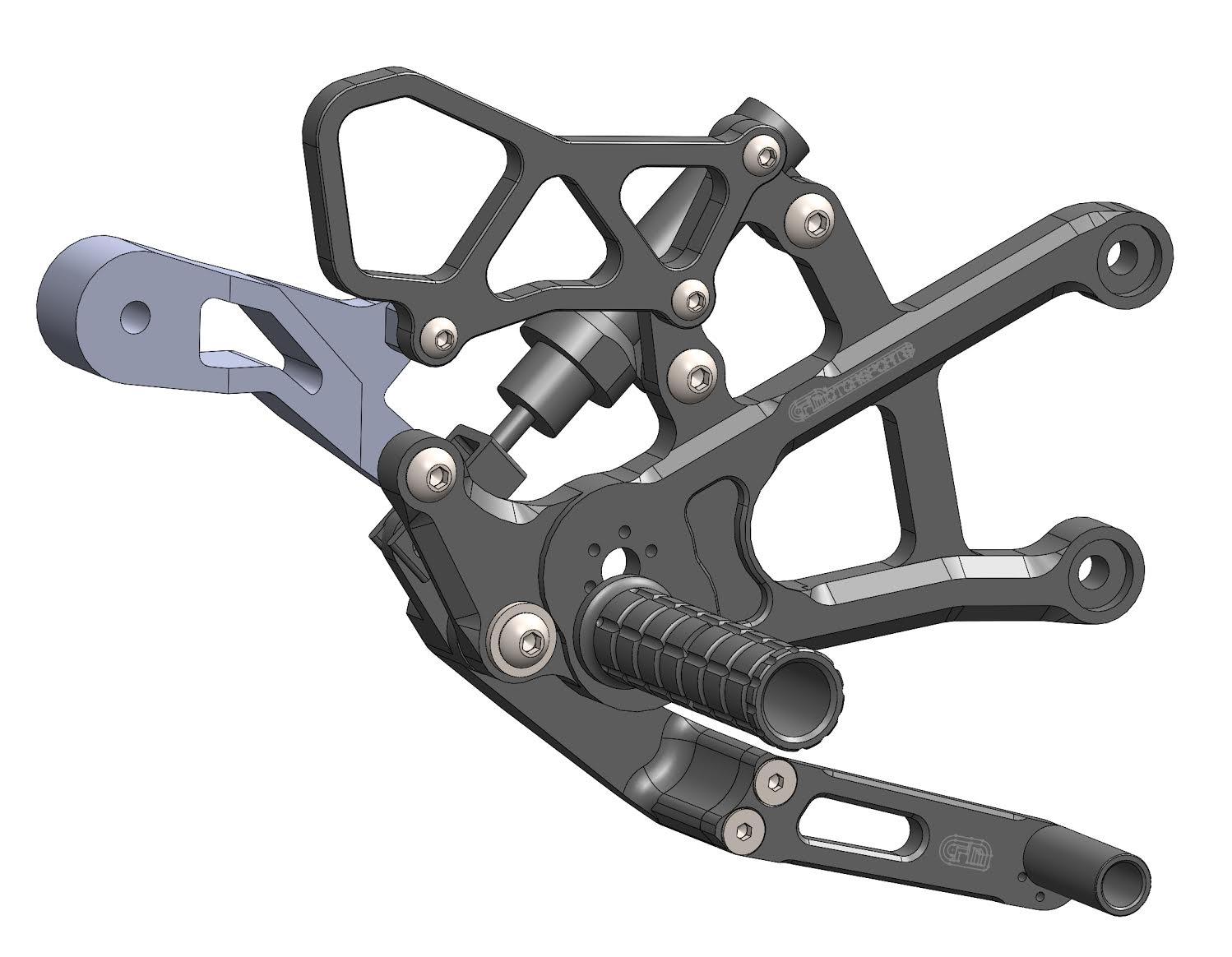 It's hard to tell what changed based on that view alone, but the new low position is about .75″ higher and .625″ back when compared to stock. As of today, the pegs can be adjusted 1.5″ higher (from the low position) to answer your canyon carving or track day needs.
We're working on getting some parts printed within the next couple weeks so we can see how it all feels. My gut says 0.75″ higher in the lowest position will be OK on this bike since there is a lot of leg room. For fear of completely sidetracking this thread, I've created a new thread dedicated to the rearsets – feel free to weigh in here: Woodcraft Rear Sets – Your Opinion is Needed!