Description
What's the big deal with this kit?  It lets your FT ECU equipped bike tune itself as you ride!
Most dyno operators will spend most time tuning wide open throttle (WOT).  Of course, this is great for making top power and is great is you're wringing your bike's neck.  But, what if you want to ride around at partial throttle and are looking for smoothness?  You know, like how most of us ride on the street? The only answer is to spend hours on the dyno carefully running the bike through all permutations of engine load and speed.  It's a time-consuming job!   If you don't have access to a top-notch dyno tuner or the funds to support it, you're stuck.  Not any more!
This kit replaces the LH stock O2 sensor with a proprietary FT ECU lambda controller and the latest generation Bosch LSU 4.9 sensor.  You'll have the option to either let the bike constantly tune on the fly, or datalog rides so that changes can be manually input into the base fuel map. Once installed and activated, the ActiveTune kit monitors the fuel mixture making fast and consistent changes to mitigate changing fuel requirements.  This kit will compensate for changes to intake and exhaust tracts, elevation, and temperature.  Unlike the Power Commander Auto Tune, this kit will also tune the load-based fuel maps.  It's truly a revolutionary piece of technology that will increase engine smoothness across the entire rev-range.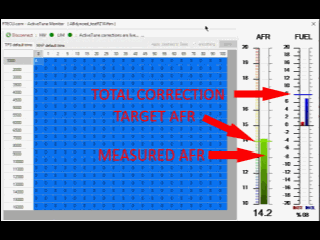 This kit requires:
– Data-Link ECU Flashing Kit ( bike harness required for tuning / data acquisition )
– Exhaust with a standard M18×1.5 O2 sensor bung.
– Smog block-offs or disabled AIS valve
This kit includes:
– 1 FTECU YAM-01 Lambda Controller
– 1 Bosch LSU4.9 wideband O2 sensor
– 1 Product Activation Card